Margarita is one of the most famous drinks in the world, if not the most. Since it was first created there has been invented something called a margarita mix! Let's discover what's in a margarita mix and why they work!
The main ingredients in a margarita mix are agave syrup, lime juice, orange oil, and water. Margarita mix is supposed to be mixed with tequila, and taste like an authentic margarita. The proportions and ingredients vary depending on which type and brand you choose.
It's not random that it's exactly these ingredients that are utilized. If you want to learn more about their function in the margarita, this article is for you!
The Ingredients Explained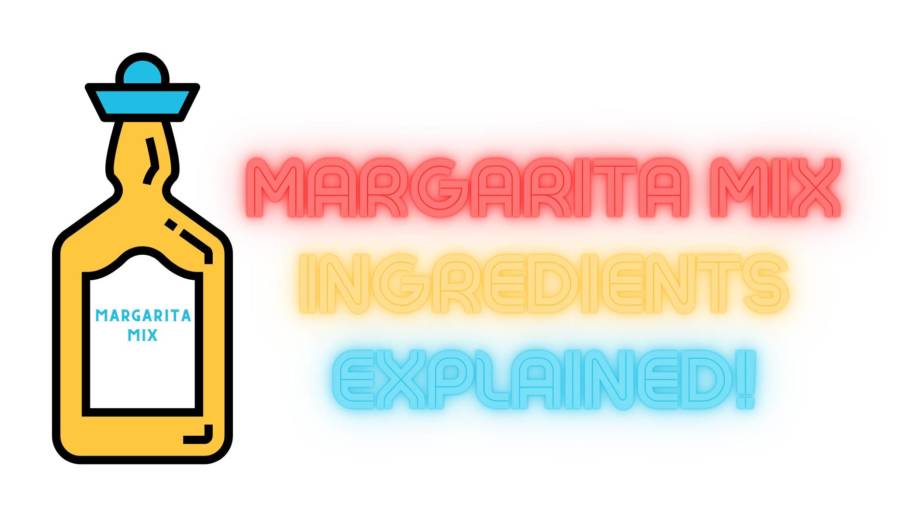 The purpose of the margarita mix is to make a good margarita, obviously. The only thing that has to be added is the tequila and it's ready. And since it's a margarita we're trying to make following a margarita would make great sense.
Therefore knowing what's in a margarita is crucial, in order for you to understand why the margarita mix contains the ingredients it does. The brands that produce the margarita mix know this very well.
But why is the taste of the margarita mix varying then? You might ask. There are many factors to this, including the product price, how long they last, and they're trying to make their own variant, just to name a few.
Anyways, let's discover what a genuine classic margarita recipe looks like, and why it's composed the way it is!
The margarita is part of the sour cocktail family, which is hundreds of years old but it's still very relevant today. The idea behind this family is that the drinks that belong to it, are composed very alike.
The idea with the sour cocktail is as follows:
The base: it has some sort of liquor it's built upon.
The sweet part: there is some kind of sweetener.
The sour part: lastly, it's a sour ingredient. Often lime juice.
Not only that, but there is also a golden ratio which tells us how much of each part there should be in the mix. For a sour cocktail, it's 2-1-1, which means there are 2 parts of base liquor, 1 part sweet, and 1 part sour. If you study recipes that belongs to this group, you will see that most of them are pretty damn close. (very handy for remembering recipes as well!).
How does this apply to the margarita? This is the fun part, now it's time to actually use the rule. So for a classic margarita, the recipe according to IBA (International Bartenders Association) is as follows:
50 ml Tequila
20 ml Triple Sec
15 ml Freshly Squeezed Lime Juice
The recipe is only in milliliters (sorry to everyone who prefer oz.), anyways you get the idea. It's about 2-1-1, there is a slight moderation, but you may find many bars following the rule more closely. For example 2 oz. Tequila, 1 oz. Triple Sec and 1 oz. Lime juice.
Enough about that! Now that you know how a margarita is constructed, you're all set to understand why the margarita MIX is how it is, and also how you can pick the best ones. Or if you're interested in making your own, even better!
The margarita mix is constructed to make the margarita satisfy this ratio. Not all do, but the ones (in my opinion) do! Let's get to it.
Since there is no tequila in a margarita mix, we only have to deal with the two last numbers in the ratio. So the sour and the sweet part. Normally the sweet part in the margarita is filled by the triple sec, but since that's an alcoholic drink it has to be some ingredients to replace this.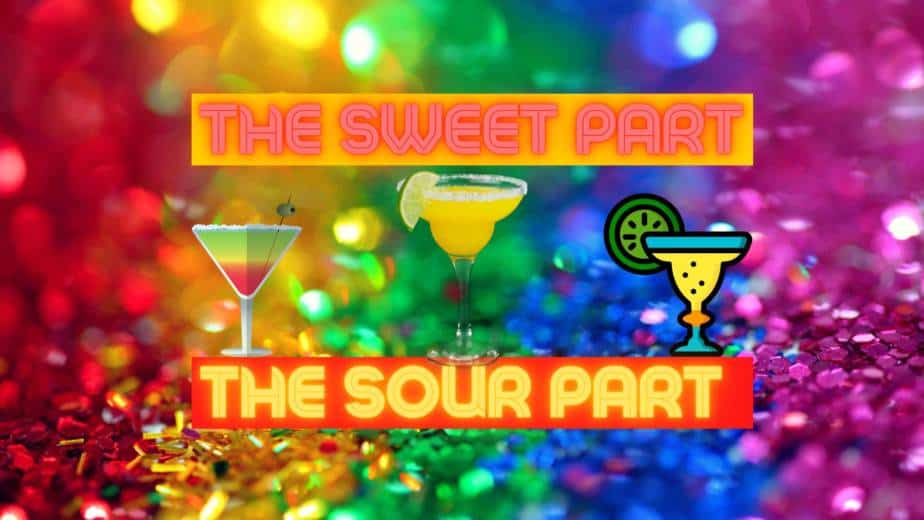 Ingredients In a Margarita MIX:
The sweet part: As mentioned normally filled by the triple sec which is a orange liqueur. Therefore, we need some kind of sweetener and also something that tasted like orange (which there is a hint of in the classic margarita).

Normal sweeteners you'll find in margarita mixes:

Agave nectar: also known as agave syrup. Many brands utilize this as their sweetener, and is also the one I prefer.

Remember:

Margarita is built around the base ingredients is tequila, which is made from the blue agave plant. Because of this agave nectar is perfect for this job!
Cane sugar: Also used in alot of margarita mixes, sometimes in combination with agave nectar according to the producer. Basically the same as normal white sugar in terms of chemical composition.
Corn syrup: Normal sweetener for commercialy produced prodocut. Would personally avoid it if it's HFCS, since there is many margarita mixes without it.

The sour part: For a normal margarita cocktail, this is done by adding lime juice! This is also true for the margarita mix.

Normal sour ingredients in margarita mixes:

Lime juice: This one is important! No margarita without it.
Lemon juice: Sometimes added to margaritas, but for this type of drink lime is the original. But it doesn't hurt too much with lemon. The best substitute for lime.
Orange oils: Since there is no triple sec which add orange flavor to the drink, it has to be added another way. This is the way! Not all margarita mixes have this ingredients, and this is definitely one to look for!
Citric acid: Added to most of the margarita mixes. Naturally found in lime, lemon etc. But also added as a manufactored form. It's used in a BUNCH of commercialy produces product, because of it's flavor enhancing trait and also as a persevative. In other words, it helps the drink taste more fresh and last for longer. BUT there are acutally some margarita mixes who don't use it!
I hope this list was helpful! There is a bunch of other chemicals used in different ones. But these are the ones I look for, the more pure, the better, in our opinion here at Drink Mastery!
The ones I use to look after when reading a label are Agave nectar, lime juice, and orange oils. Preferably one with only these, and the best one I've found is Withco's Agave Margarita. That one is incredible and does not contain any preservatives except the natural citric acid found in freshly squeezed lime juice!
Once you've made up your mind on the margarita mix and know which one to buy (or how to make it yourself), you cannot stop here. There is only one ingredient left, the tequila! But choosing the wrong tequila can ruin the whole drink. I will now show you how to pick the best possible tequila for you!
How to Pick Tequila for Margarita
With over a thousand brands registered for making tequila, it can be intimidating to choose the right one. Therefore, you'll now learn what to look for when picking tequila for your margarita mix!
The first thing to look for when choosing tequila for the margarita is that it's made from 100% agave. This is usually clearly labeled on the bottle. There are 4 main variants you can choose from. Most people prefer either blanco or reposado for the margarita.
That's the short answer. Here is also a table over the different types of tequila, their age, and some information about each of them:
| | | |
| --- | --- | --- |
| Types of tequila: | Aged in oak barrel: | Information: |
| Blanco: | None | Straight from the still. Pure agave taste, no taste of oak barrel. Also called Plata or Silver. |
| Reposado: | More than 2 months less than a year. | "Rested". Yellow-ish color. A hint of oak flavor, which differs on the age of barrel used. |
| Añejo: | More than 1 year less than 3 years. | "Aged". Darker color than reposado. More oak flavor. |
| Extra añejo: | At least 3 years. | "Extra aged". Darker color than añejo and more complex flavor. |
As you can see what separates the types from each other is how long they have been aged in oak barrels after distillation. These are the most important types to know about. Now, which is best for the margarita?
Most people do as mentioned earlier prefer the blanco or reposado. This is because they taste more pure agave, while the older ones have a more complex flavor, and therefore may be a bit too much for what we want in the tequila. They are however great to sip as they are.
As you can see in the table, the blanco is also known as silver tequila. If you search the web for recipes, that's often what they call it!
So the important thing to remember is that you want 100% agave and also that it's either blanco or reposado! Alright, now you're almost ready to make a perfect classic margarita! The only thing left now is to know how much to use when you are using margarita MIX.
Her seier me ka sort osv også viser me kor mykje å blanda i neste avsnitt. Då tar me fram 2-1-1 regelen.
How Much Tequila to Use With Margarita Mix
The last step missing! Now you just need to know exactly how much of that beautiful tequila to use with your margarita mix!
As a general rule, the amount of tequila and margarita mix should be 50/50. However, some brands have their own recipe on how their product should be mixed. Therefore, make sure to read the instructions for each specific margarita mix.
You've now obtained margarita mix mastery! Congratulations!
If you're wondering how many margarita mix bottles you'll need, read the next section!
How Many Drinks Are in a Margarita Mix?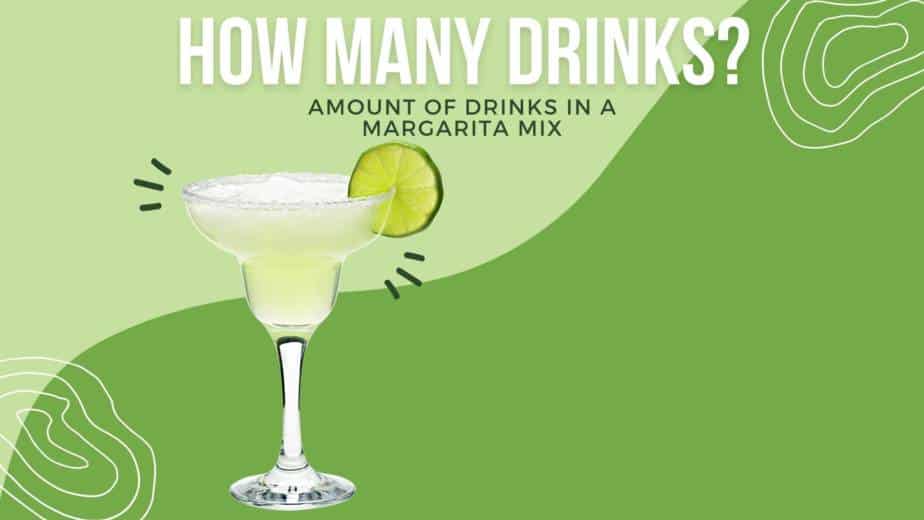 If you want to plan ahead how much you need to buy or how many bottles to get for multiple people. We'll cover that now. So let's check how many drinks a bottle of margarita mix contains!
The average margarita mix gives you 17 drinks, assuming your margarita mix is 33.8 oz and your serving size is 4 oz. The reason for this is that the ratio between margarita mix and tequila is usually 50/50, meaning one margarita mix bottle gives two bottles of margarita, when mixed.
So one margarita mix is enough to make the whole party go bananas!! Or one 'forgettable night out, if it's only for your closest friends… Think about this.
The average tequila is 40 percent and you mix it 50/50 with margarita mix. This gives 17 drinks of 4 oz. containing 20% alcohol. That's basically one tequila shot and more for every drink. And the best part, when you follow the advice given in this article, it will taste amazing!
If you're going for the margarita mix, here are our favorites. These are not too sweet or bombed with artificial preservatives and chemicals as a lot of margarita mixes are.
Recommended Margarita Mixes!
Here are our favorites at Drink Mastery. Enjoy!
Withco's Agave Margarita:
We have tested a lot of different margaritas mixes, and none quite compare to this one. Withco truly impresses with this margarita mix. It's the closest you get to a genuine bar-made classic margarita. And this is no coincidence if you read through the ingredients. There are no chemicals, no artificial preservatives in any way, according to Withco.
The only preservative is lime juice, which is how it is by nature!
It ticks off all the boxes of what we're looking for and is the closest you get to an authentic margarita.
Sweet part: Agave nectar- Check!
Sour part: Lime- Check! Orange oil- Check!
Other ingredients: Water. That's it.
I'll include a link to their product on amazon here! (If you order it, we at Drink Mastery get a small commission. Not that Amazon is very generous with bloggers…)
It also comes in a classy, clean-looking bottle, that you can proudly show to your guests.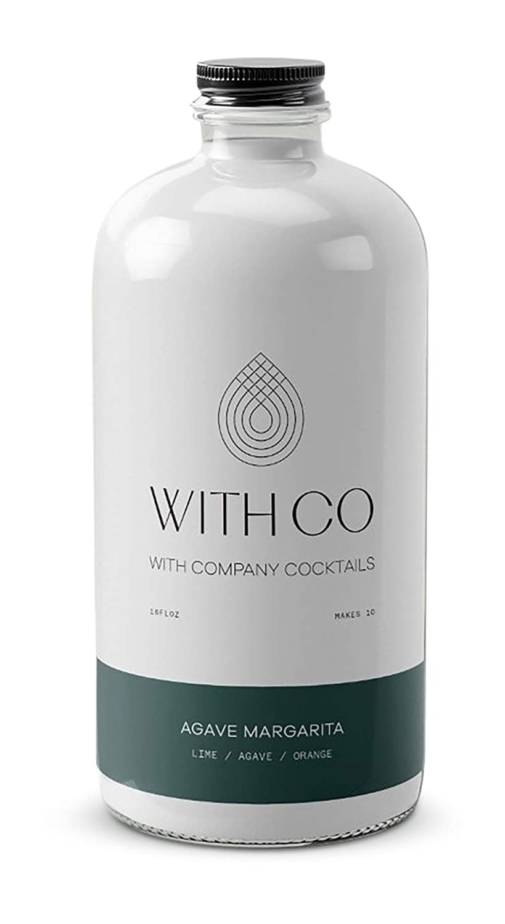 Tres Agaves Organic Margarita Mix
What we love about Tres Agaves, is that they don't want to hide the tequila taste, as a lot of the margarita mixes out there do. Rather their goal is to enhance it, which is exactly the point of the margarita. The ingredients in a classic margarita are truly there to enhance the tequila. 1 point to Tres Agaves!
Sweet part: Agave nectar- Check!
Sour part: Lime- Check! Orange oil- Missing…
Other ingredients: Water, ascorbic acid (Vitamin C)
What we didn't like about this one is that there is no orange oil and the ascorbic acid which is an artificial preservative… It also gives more of the citrus taste, which is a good thing. Overall a good margarita mix, but does not quite weigh up to Withco's Agave Margarita (in our opinion).
Give them both a shot! It's always fun to explore. Both are two great alternatives. Check it out on Amazon here (affiliate link).
Frequently asked questions:
Can You Buy Margarita Mix?
Margarita Mix can be bought online or in a normal grocery store. Margarita Mix can be bought online or in a normal grocery store. There are no special restrictions as it's a non-alcoholic beverage.